Summer recap, plus hints of a wetter pattern ahead
Published: Sep. 14, 2023 at 9:08 PM PDT
Meteorological summer ended on August 31st, but it takes a week or so for all the data to arrive. I've collected all the highlights for you here, and a look at rain possibilities follows
SUMMER HIGHLIGHTS
The unprecedented stretch of warm/hot summers continues. We haven't seen a cool summer in 12 years. Global Warming/Climate Change is making itself felt around here!

It was the 3rd, 4th, 5th, or 6th hottest/warmest summer on record for most of us, depending on location

We are in the middle of another unusually long dry period, less than 2″ rain in 4 months!

The warm/dry season started very early this year, in mid-May

Fire season has been reasonable considering the hot/dry. Luckily showers/cool followed a couple of lightning outbreaks
Every summer I think "maybe this will be the one summer that's cooler than normal". It hasn't happened since 2011 and sure didn't happen this year. This chart shows the average of western valleys climate stations over the past 100 years. The swing upward started around the mid 1980s, but really ramped up around 2013.
The numbers for Portland look like this, note the warmest August and month since records began at PDX in 1940
It was our 3rd warmest summer on record. Of course some of that was propelled by another summer of ridiculously warm nights. We are only two warm nights away from the all-time 60 degree night record.
And as of this evening we've seen 25 days at/above 90 degrees
I sometimes get comments such as "well, Portland is a huge urban heat island and it's not representative of other areas". That's partially true, but the heat this last decade-plus has been widespread, including rural and coastal locations
Most notable to me is Corvallis. It has often been held up as a good climate location; removed from urban areas and a long history back into the late 1800s. 2023 has been the 3rd warmest summer there. You see #1 and #2 were both in the past 10 years. Even these long-term sites can have errors. According to the record books, Summer 1915 was warmer than this summer in Corvallis; but I noticed there was quite a temperature spike that summer that doesn't exist at other Willamette Valley stations. Our state climatologist Larry O'Neill shared the observer form from August 1915 at that station. Yeah...no. Was the observer on vacation and his/her friend filled in, just adding in the 11am temperature as the low for the day? Who knows. But I'm quite confident there weren't 3 nights with lows in the 80s! The result? I'm ignoring 1915 in Corvallis
Something did change back around 2012-2013 that's giving us hot summers, but what? Notice the 75 year change in summer temps is strongly upward in the western USA; that's not the case in the central USA. Summers haven't changed much there. A climatologist from Alaska shared this on X (Twitter) today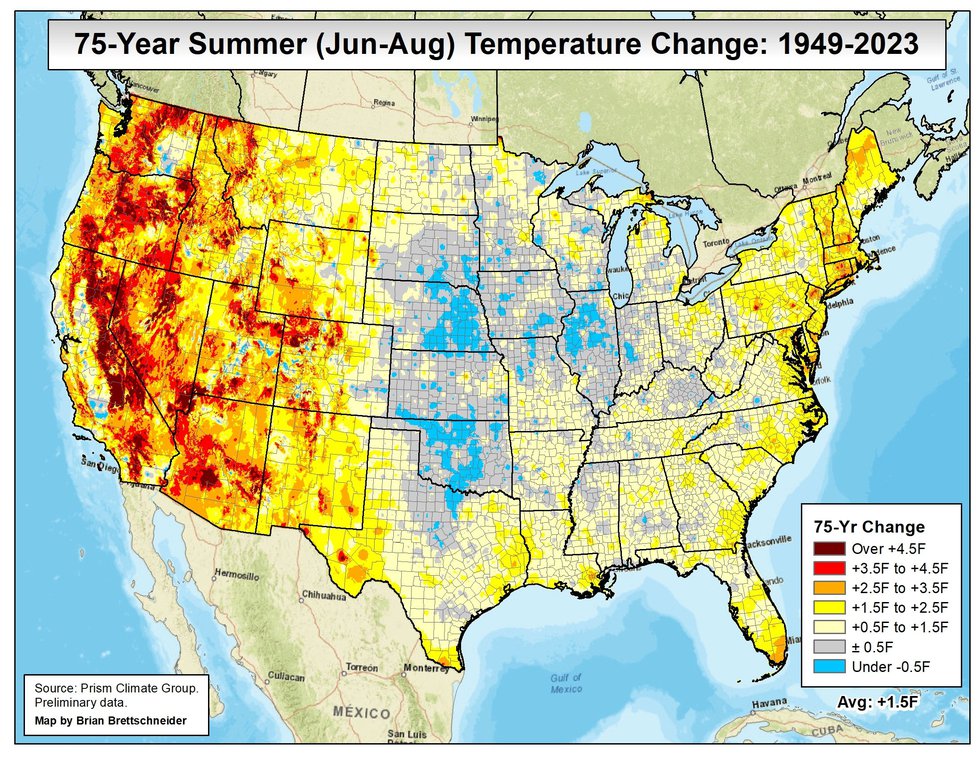 As of today we've hit 90 or higher 25 times this year in Portland
Alright, that's it for summer talk
HINTS OF A WETTER PATTERN
Most years we get some sort of soaking (more than 1/2″ rain) at some point in September. Last year was unusual in that the dry spell extended into mid-October.
A weak upper-level trough swings through the region next Wednesday and that should provide at least a few showers. But it's passing through quickly which limits rainfall. More likely something is up about 10 days from now.
Here's an interesting product that shows 24 hour precipitation forecasts from 51 different ensemble members of the ECMWF model. It's showing the average of those ensembles. It also shows the model trend over the past 5 days, or 10 model runs. Time goes from left to right. Thick black line is right now. This morning's run is the lowest row. The run from 5 days ago is the top row. This graphic is a great tool because you can see how the model is bringing in or taking away precipitation as time goes on. For example, at one point (for 3 model runs), it was hinting at a few showers Monday, but then over the last 3 runs that has gone away. What HASN'T changed is around the 23rd/24th (NEXT weekend). Notice a wetter period continues to be forecast starting at that time. When we see a model (other models too) consistently forecasting a change like this...we notice.
That's it for this evening. Tomorrow will be hot again and then we've got a comfortable weekend on tap. Enjoy it because that following weekend MIGHT be much different with rain/clouds. We will see.
Copyright 2023 KPTV-KPDX. All rights reserved.